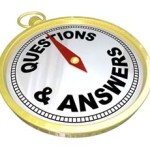 Welcome to Team Talk Q&A!
This question comes to us from Heather in Nebraska. If you have a question you would like to submit for our monthly Team Talk Question & Answer, please send an email to news@human-solutions.net.  We look forward to hearing from you!
Q: "I've really been enjoying the Job Development training and learning tons!  I had a question I wanted to get your opinion on.  After a client has had an interview, how long should they wait before following up with the prospective employer?  They were not given any time frame to expect a decision."
A: I am so glad you are enjoying the class!! 
Follow up can happen in two different ways. A thank-you note, handwritten or email is appropriate within 48 hours of the interview. A client can let the employer know in the note that they will be calling to follow up by "Wednesday" (whichever day makes sense, no more than 2-4 days post interview) or just call within that timeframe.
We suggest clients use at least two "closing questions" at the end of the interview. 
1.         What is the next step in the hiring process?
2.         When do you plan to have this positioned filled?
3.         When can I expect to hear from you?
4.         What day may I call to follow up?
It is always best to encourage clients to take responsibility for all follow-up activities since most managers or interviewers can get very busy and distracted.  It also shows initiative on the job seeker's part.  Good luck!
Christina Harrington, Opportunity Consultant
Human Solutions LLC