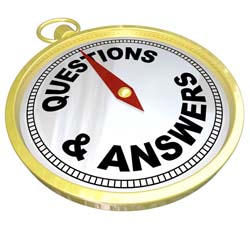 Welcome to Team Talk Q&A!
This month's question is about how to keep your customers motivated and active in their job search in between their appointments with you. If you have a question you would like to submit for our monthly Team Talk Question & Answer, please send an email to news@human-solutions.net.  We look forward to hearing from you!
Q:  What are some ways that we can help keep our customers motivated and on task in between appointments, and how can we maximize our time when we're together?
A: Having a customer lose motivation and momentum in between their appointments can happen quickly and often if we don't give them the tools to stay focused and positive.  One of the tools we have developed to address this issue is what we call our Quick Coach Prep Sheet.  This two part form is completed by the customer and sent over to the customer's Career Specialist (or Case Manager) two days prior to their appointment. During each meeting with the customer, we set three new goals and dates for completion.
The customer fills out the first section and shares their successes and challenges since the last meeting. You know here at Human Solutions we believe in celebrating every accomplishment, no matter how small. We love to focus on their WINs!   This gives us the opportunity to provide positive feedback and encouragement.  We also ask what Opportunities (a job interview) and Challenges (unable to get the email address of a hiring manager) they have coming up to identify what tools and resources we can provide them with. This saves us both time and keeps our time together very focused.
The second section is goal setting!  These are quantifiable action steps. (Yes, that means there are numbers in these goals.) We suggest focusing on three high-impact activities that will create variety in their job search activities. If your customer is particularly motivated you can add a few long-term goals, but be careful to not let the goals to become overwhelming.
Here are a few goal examples:
Within the next week I will send out 10 resumes.
Within the next week I will make five new connections on my LinkedIn account.
Within two weeks I will attend one networking meeting and talk with two new people.
Let your customer come up with their own goals, with you providing ideas, structure, and encouragement to set high, but realistic goals. The most important aspect of setting goals and writing them down is to help your customer stay motivated in the process, focused on activity versus results, and keeping the customer accountable to their goals, not yours.
You can find tips like these and other creative ways to work effectively and efficiently with you customers by joining our next session of Job Development Boot Camp: Headhunter Style starting on July 11th. You can learn more about this 7-week webinar course here. Come join us!!