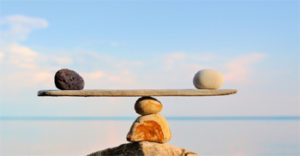 I hope this finds you well and in good spirits! I had a wonderful time with family and friends over the holiday weekend and was thankful for each moment we spent together.
It's December, and if you're like me, it's often a time to reflect on the past year. What inspired me? How did I grow? And, what lessons did I learn? I will start out by saying that I was inspired daily by our clients, partners and the work that's being done in the local communities we serve. We are so fortunate to be in a field that helps others regain not just a career or job, but often their self-worth and identity. We spend most of our day at our job, so it makes perfect sense they go together. Thanks to all of you for the amazing work you do!
The how did I grow and lessons learned went hand-in-hand this year. The past 12-months have been a year of transition for me personally. I took quite a bit of time off to be with family, provide support to my mom who was diagnosed with Stage IV cancer, and to practice my own self-care.  I think self-care is something that often comes last for many of us in the "helping" field. I am pleased to say that self-care is something I excelled at this year.
I think one of my biggest lessons for the year was around balance and how we need to be okay to shift that balance based on what's happening in our life. I am used to consistently running at a very high work output level. This year – not as much. Have I been as available or present as I could have been at work? No. Was I able to be present in the other areas of my life that needed attention? Yes. When you are used to conquering all, the biggest challenge is often in letting go. This lesson took time, but was so worth the effort.
I'm going to bring this full circle by ending with what inspires me…it is the work we do. I look forward this coming year to interacting and re-engaging with you. We have exciting plans for 2018, and I look forward to sharing them with you.
Thank you for your continued support of the work we do at Human Solutions. Wishing you all a wonderful holiday season!