As I was putting together the materials for this month's theme, which focuses on age-related and intergenerational issues, I was feeling like I needed some inspiration!  As some of you may know, getting older offers some unique "learning opportunities" both personally and professionally.  It's often easier to look back at what once was instead of embracing the future and looking forward.  I've had my fair share of "learning opportunities" over the past few years.  Whether it involves us or someone else, part of it is the realization that with age comes experience, acceptance, tolerance, and many other positive attributes that really translate into the "soft skills" employers are looking for.
Today I've included a few fun facts that let us know that it's never too late.  It also demonstrates how important is it not to judge someone based solely on their age (young or old).  My 74-year old mom is my role model.  Not only does she still ride Space Mountain at Disneyland, she enjoys life more now than she ever did, and is far more proficient at PhotoShop than I ever will be.  Go figure!
These facts are taken from "The Oldest People Who Have…Done Things You Wouldn't Expect Them to Do!"
* Oldest College Graduate: Nola Ochs graduated at age 95 from Fort Hays State University (in Kansas).  Go, Nola!
* Oldest Blogger: Ruth Hamilton at age 109.  Ruth was also one of the first women to host her own talk radio show!
* Oldest Absentee Voter: Sister Cecilia Gaudette, age 106.  She last voted for Eisenhower, and sent in her absentee ballot during the last election from the convent she's lived in for 50 years located in Rome, Italy.
* Oldest Scuba Diver: Bert Kilbride holds the record at age 90!  
* Oldest Water Skier: Frank Schearer, age 100!
* Oldest Sky Diver: a couple of unnamed 101 year olds are said to hold the record.  Mary Armstrong, great grandmother of 9, celebrated her 90th birthday with a 12,000 foot jump!
* Oldest to climb Mount Everest: Yuichiro Miura at age 70.  I can't imagine doing that at age 22.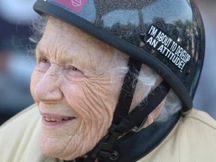 * And, my favorite, Oldest Biker "Chick:" Bess Tancrelle at the young age of 102. Bess road a Harley Davidson, while her 97-year old sister road in a sidecar.  It started with a conversation between girlfriends at her retirement community.  With the support of family, friends, and members of the Coastal Carolina Harley Owners Group in Wilmington, Bess got her wish! Her helmet sports a decal that says it all: "I'm about to develop an attitude."