Prepare and Execute a Successful Job Search!
You have better things to do than develop strategies for delivering workforce development services. Over the past fifteen years, we've compiled all of our forms (we've even made them downloadable for your convenience!) and resources and created a shortcut that's all in one place—The Job Search Essentials Resource Guide.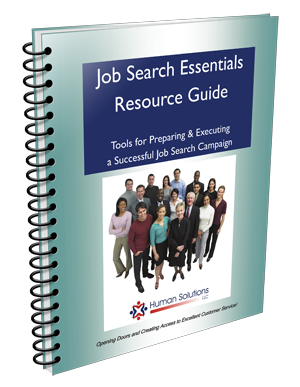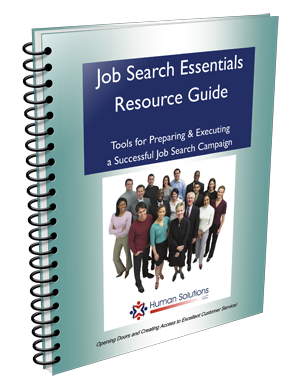 This 160+ page workbook is packed with more than 85 proven downloadable forms and resources we use in our own business to provide job placement services.
While we've shared many of those resources over the years in training sessions, this is the first time they are all being offered in one place.
These tools have helped to streamline what we do at Human Solutions and have made our lives a whole lot easier. We want to make your life easier, too. That's why we've assembled this guide.
What's Inside? Resources for:
Client screening & assessment
Identifying transferable skills
Cover letter & resume development
Online & offline job search strategies
Interview & disability disclosure
Retention & career advancement
Check out the Table of Contents for a sneak peek!
What benefits will you receive?
Quick reference right at your fingertips (or computer screen!)
Ready to go! No more endless searching for tools.
Takes the work out of doing it all yourself!
With the time you save, it pays for itself over (and over and over) and over again!
What's included?
In addition to the hard-cover job seeker resource guide, you'll also receive access to a downloadable version of the forms. These forms are in Word format, so you can customize and rebrand them to meet your organization's needs. There will be no recreating from a copy or PDF file – you're getting EVERYTHING we have, which will give you more time to do what you're best at – serve your clients.
Order Now!
The workbook and downloadable forms requires an investment of $97.00 plus shipping. This grants a single-user or a single-organization access to the resource guide and all downloadable forms.
Bulk pricing discounts are available.
For more information, please contact us at info@human-solutions.net or call 714-826-7886 or 711 TTY/TRS.
Order now to take advantage of this unbeatable value!


If you have any additional questions, email us at: info@human-solutions.net!