Need a quick "how to" on policy development?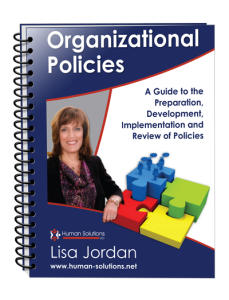 For a quick and dirty "how-to" on policy development, you need Organizational Policies: A Guide to the Preparation, Development, Implementation, and Review of Policies
14 EASY steps to policy preparation, development, implementation, & review
32 pages of content-rich information (no fluff here!)
Tips on what constitutes a good policy
A sample policy to understand how policies are written
6 basic steps to prepare for policy writing
4 additional steps to getting it right the first time
Steps on how to get your policy implemented
Tips for developing a plan for follow up (things change, and so can your policies)

Check out the Table of Contents for a sneak peek!
Plus, you'll receive:
A grand total of six (not just 1 or 2) policy templates, including one master template and 5 others on the following topics. All you have to do is fill in the blanks!

Accessibility Planning
Accessible Communications in the Workplace
Disability and Customer Disclosure
Emergency Evacuations
Reasonable Accommodations
This guide has been assembled by our founder and CEO, Lisa Jordan. LisaJordanSpeakerSheet
A $37.00 investment that will save you hundreds of dollars worth of time! How can you go wrong?