Hopefully the title of today's resource caught your attention!  I ran across this book about a year ago when I was preparing for a customer service training.  In the process, I'd gathered many books on dealing with difficult people and this was one of my favorites!
The two chapters of the book I thought were the most helpful were the description of the different difficult behaviors ("The 10 Most Unwanted List") and "The Lens of Understanding."  The Lens of Understanding revealed the motives or "why" behind the different behavior types, including how it's determined.
If you provide customer service of any type, this is an informative and helpful read.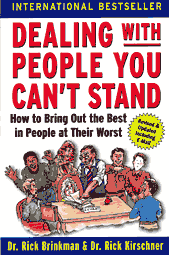 Authors: Dr. Rick Brinkman & Dr. Rick Kirschner
Cost: On Amazon, I found the book for under $10.00.